With an amazing 70° field of view, spread across 1.7 MP of resolution, the Prime 17W offers expansive camera coverage. Combined with 360 FPS capture rate, it's a truly multi-talented camera.
Wide angle FOV with edge to edge coverage
The Prime 17W's wide angle 70 degree FOV offers true, edge to edge coverage across the camera's image sensor. Most wide angle motion capture cameras suffer from vignetting on their edges, which can significantly reduce their effective coverage. We've engineered the Prime 17W lens to perfectly match the imager's resolution, ensuring that its performance actually lives up to its impressive specs.
"Fast glass" 6mm lens
We custom design our own super low distortion, "fast glass" lenses for optimal marker tracking. The Prime 17W's F#1.6 lens is treated with a wide band anti-reflective coating, which dramatically increases light transmission to the imager, yielding larger volumes and cleaner data.
Maximize volume size in smaller spaces
With the Prime 17W's wide angle format and impressive range—two features that rarely co-exist in a motion capture camera—you can extract impressive capture volumes, even out of compact setup spaces. The Prime 17W delivers the hallmarks of Prime Series performance, like industry-leading 3D precision and easy-to-use setup and operation, in a package that produces the largest possible capture volumes in labs and studios that are under 50'.
High frame-rate capture
The Prime 17W's 360 FPS capture rate and image stopping global shutter can be used when your application requires Prime Series precision for movement speeds above 150mph.
Intuitive & elegant design
In designing the Prime series, we considered the complete lifetime of a motion capture camera—from unboxing to setup, capture, and teardown. Each process is elegantly accommodated with a nod to simplicity and usability.
In addition to the essentials you're accustomed to, you'll discover several new features that will make you wonder how you got on without them. Enjoy innovations like our Aim Assist technology for single-user setup and our on-camera visual health and activity indicator.
Aim Assist for single user setup
Bring the camera to view in software and optimize camera settings for aiming with one button press. Aim Assist enables a single operator to configure a system in minutes, without ever touching the software interface.
On-camera status indicator
Our new on-camera visual alert system provides visual feedback on camera health and activity based on a ring of programmable RGB LEDs mounted on the camera face. As camera status changes, so does the indicator ring. Color and brightness settings are customizable, so you can tailor the system to your preferences.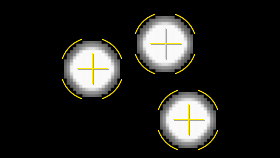 On-camera image processing
Our heralded real time, on-camera image analysis delivers clean, reliable data to your PC for efficient marker solving and reference video. Image processing types include:
Object - Performs on-camera detection of marker location, size, and roundness using our most precise grayscale processing methods. Provides excellent precision with the smallest CPU footprint.
Segment - Divides processing between the camera and CPU, providing streamlined marker information for CPU-efficient marker detection. Primarily used for accessing object shape data during masking operations.
MJPEG-compressed grayscale (up to 350 FPS) - 1/4 resolution grayscale video (down-sampled, 832x544), compressed on-camera for highly scalable reference video capabilities.
Raw grayscale - Full resolution, uncompressed grayscale.
Super bright illumination with the subtlety of IR
Featuring 20 ultra high power LEDs, the Prime 17W's strobe is both efficient and powerful. In addition to impressive range, its LED array enables faster discharge for quick exposures—ideal for capturing very fast motions. And at 850nm IR, which is invisible to the naked eye, the Prime 17W offers inconspicuous illumination that prevents the vision fatigue and unwanted attention to your capture rig caused by cameras that emit visible spectrum light.
GigE and PoE+
Gigabit Ethernet I/O and PoE+ provide the Prime 17W with extensive cabling range (up to 300'), massive bandwidth capabilities, and a 25W power budget.
External sync in/out, Genlock, and Time Code
Synchronize Prime 17W cameras to almost any signal or source with the eSync 2. Cameras can be in sync to sources such as a professional video Genlock signal, and can also be triggered to record from general purpose inputs and software commands. Use the sync output signal or trigger with a DAQ for biomechanical force plate data alignment. Highly accurate frame timing can also be achieved with SMTPE Time Code for ease in editing and logging.

OEM integration
Incorporate Prime 17W cameras into OEM tracking or computer vision applications via the free Camera SDK.