InSight is a complete, real-time scientific and clinical 3D human motion analysis solution. Developed in collaboration with STT Systems, it offers a streamlined workflow for effortless marker tracking, data collection, real-time analysis and reporting.
Full compatability with Motive from OptiTrack
Powered by STT Systems
How It Works
STT InSight receives unlabeled 3D marker position data from Motive:Tracker and computes joint locations, bone position and orientation with industry-leading accuracy. In addition, it key-frame synchronises force plate and EMG data.
Biomechanical data, such as displacement, velocity, acceleration, forces and joint angles are displayed in real-time, and reports can be generated in seconds.
Workflow/Features
Accurate Tracking in Motive
Industry-leading 3D tracking accuracy using OptiTrack hardware and software.
RealTime Auto-labelling
Preconfigured with validated, peer-reviewed and published markersets allowing InSight to automatically label markers for the chosen protocol. No need to label any markers by hand.
Data collection
Built-in patient/athlete database for simple trial management.
Application/movement specific protocols and reporting.
Force plate and EMG integration.
Automatic Event detections for efficient processing.
Data visualization
Real-time Metrics and Graphs.
Automatic report creation.
Normative Data groupset.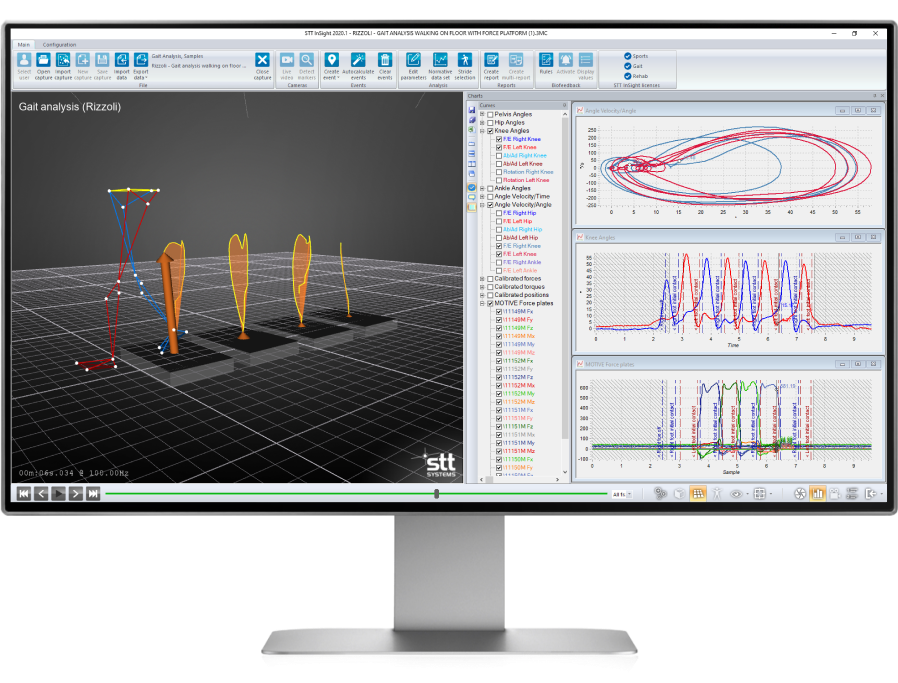 Forceplate and EMG Integration.
Native, plug-and-play support for all major digital force plates (AMTI, Bertec and Kistler), EMGs, and analog devices, providing researchers the tools they need most for real-time display, reporting and analysis.
Software Packages
Gait analysis, from small clinics to large hospital gait labs.
Key Features:
Helen Hayes
Helen Hayes w/ patient calib
Helen Hayes & arms
Helen Hayes for children
Rizzoli Lower Body Protocol
Free full-body analysis (19p)
Running, Golf, Cycling, Bike fitting and jumping analysis.
Key Features:
Running analysis (full-body)
Bike fitting protocol (full-body)
Bike fitting protocol (full-body & bike)
Bike fitting protocol (full-body & floor)
Road bike measurement
TT-Tri bike measurement
MTB bike measurement
Vertical jump analysis (full-body)
Golf swing analysis (full-body)
Free full-body analysis (19p)
Jump Landing Assessment (LESS Score)
PT clinics seeking Range of Movement for each joint.
Key Features:
Shoulder and elbow
Both shoulders
Ankles with initial cal
Elbow
Wrist analysis
Hip analysis
Knee analysis
Lumbar 8p analysis
Lumbar 2p analysis
Head & cervical analysis
Dorsal analysis
Free full-body analysis (19p)
Ankle analysis
Bundle Discounts:
2nd software purchase:
25% off
3rd software purchase:
50% off
STT InSight is a software solution – a set of tools for streamlined 3D motion analysis based on a number of predefined protocols grouped in three different packages: Sports, Gait, and Rehab. It acquires 3D point clouds from OptiTrack Motive, both in real time and offline.
These packages are not available using the Duo, Trio and Flex 3, or for systems with less than 6 cameras.
Software remote support provided for free by STT.