The Slim 3U is a board level camera designed for OEM integration in computer vision, multi-touch screens/surfaces, and custom tracking applications. It is fully customizable, with a variety of optional components and features. Software support includes the free Camera SDK, which provides complete control and access to camera settings.
A curved multi-touch screen
Six Slim 3U cameras were used in making the Reality Touch Theatre at the University of Groningen.
Fast, precise, and efficient capture
The Slim 3U is capable of capturing fast moving objects with its global shutter imager and 120 FPS capture speed. By maximizing its 640 × 480 VGA resolution through advanced image processing algorithms, the Slim 3U can also track objects down to sub-millimeter movements with repeatable accuracy.
Components a la carte
Build your SLIM piece by piece, optimizing it as you see fit. Custom building your camera gives you the flexibility to create a hardware solution that is tailored for your own application, satisfies your unique spec, and maximizes cost-efficiency. Optional components include:
Aluminum case with CS lens mount and 1/4"-20 tripod thread
Filter options (800nm pass filter, Filter Switcher, empty filter plug)
Lens mount adapter (CS to M12, CS to C—only available with SLIM case)
M12 lens (3.5mm, 4.5mm, 5.5mm)
Input/output (Sync break-out cable, Micro 9-pin connector)
Camera control
With OptiTrack's Camera SDK you can access a variety of Slim 3U settings for greater control over what your cameras capture and what information they report to the software application. Available settings include:
Image processing type
Frame rate
Exposure
Threshold
Filter switching
And more...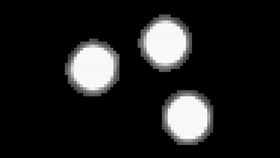 Precision Grayscale | Segment | Object
Precision Grayscale (orange) vs. Segment (green)
On-camera image processing
In addition to providing raw and MJPEG grayscale video, SLIM cameras can process and threshold data on-board, creating a variety of video modes deliverable to your PC, including:
Precision grayscale - Most precise object detection. Sends grayscale object information to the PC for calculation of location, size, and roundness using our most precise processing methods.Provides greater accuracy than other modes, but consumes more CPU resources and USB bandwidth.
Segment - Balanced object detection. Similar to Precision Grayscale, Segment processing streamlines object information for more CPU-efficient marker detection. Provides a balance between precision and USB bandwidth use.
Object - The most CPU-efficient object detection. Provides more efficient USB bandwidth utilization, but delivers less information to the PC than other modes.
MJPEG-compressed grayscale - Full resolution grayscale frames, compressed on-camera for highly scalable scene video capabilities.
Raw grayscale - Full resolution, uncompressed grayscale.
MJPEG compression
Transmit MJPEG-compressed grayscale video at full frame rate and full resolution with 1/10th of the USB bandwidth of uncompressed video. MJPEG compression enables multiple cameras to stream video to the same PC, offering scalability superior to raw grayscale video.
Filter Switcher technology
Upgrade any Slim 3U camera with the same Filter Switcher technology found in Flex 3 cameras, enabling visible spectrum video in addition to standard IR imaging. FS-enabled cameras are equipped with a solenoid that can be controlled in-software to extend or retract the infrared lens filter. OptiTrack's user-changeable, polychromatic M12 lenses are specially designed to remain in focus in both the visible and infrared spectrums.

OEM integration
Incorporate Slim 3U cameras into OEM tracking or computer vision applications via the free Camera SDK.